Introduction
In the world of recycling, speed isn't always the key to efficiency. Enter the Trommel, a slow-rotating separation machine that has proven its effectiveness in removing smaller-sized contaminants from various recycling streams. Whether it's plastic recycling plants or larger Material Recovery Facilities (MRF) dealing with municipal waste, the Trommel is a straightforward yet powerful solution.
A trommel is a large cylindrical screen that is typically used in the mining industry and waste management. It's designed to separate materials by size, allowing smaller materials to fall through its screen while larger materials continue to move through the trommel.
In the context of plastic recycling, a trommel might be used to separate different types and sizes of plastic waste before it's processed into pellets. The trommel's rotating action helps to break up clumps of waste and remove any impurities, such as dirt or small bits of metal, that could potentially damage the extrusion or pelletizing machinery.
Working Principle
At the heart of a Trommel is a large cylindrical mesh screen tunnel that rotates between 6 to 10 RPM. Equipped with flaps on the interior, the Trommel flips the feed stock continuously while guiding it forward. As the material moves through this tilted separation equipment, smaller contaminants like broken glass fall through the mesh screen and are collected. Larger pieces that don't pass through the mesh move on to the next stage of the recycling process.
Technical Specifications
Main Motor Power: 11KW x 2
Belt Conveyor Motor Power: 3KW x 2
Trommel Length: 1200mm (customisable)
Trommel Diameter: ⌀2000mm (customisable)
Tilt Angle: 3 degrees
Trommel Rotating Speed: 6 RPM
Belt Effective Width: 1400mm
Roller Diameter: ⌀250mm
Images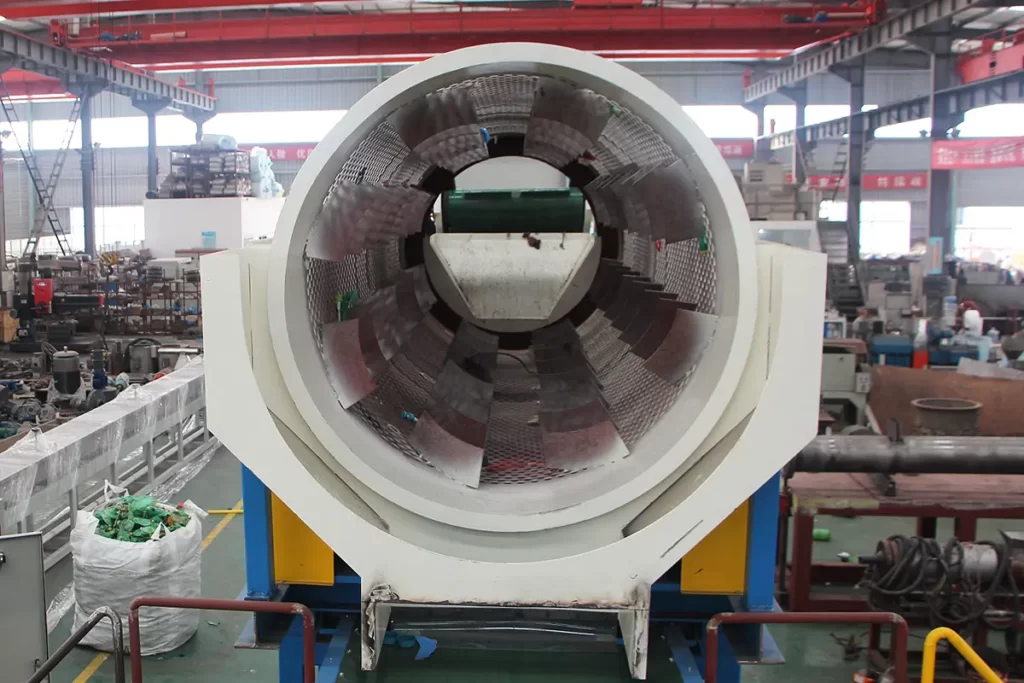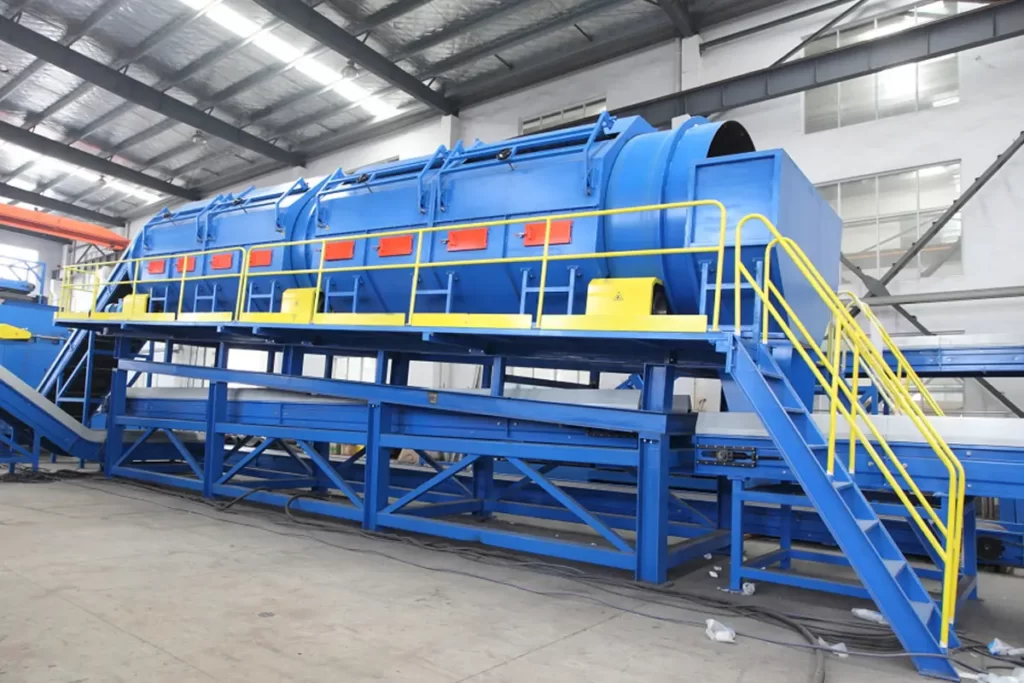 Additional Features
Our Trommels come with automatic brush units to keep the mesh filters clean. They are available in two-wheel or four-wheel drive designs and feature frequency and synchronisation controls. Custom specifications are also available upon request.
Conclusion
The Trommel may be slow-moving, but it overcomes the obvious factors that often hinder the efficiency of faster machines. Its design and features make it an invaluable asset in the recycling industry, offering a reliable and effective means of material separation.
All recycling machines come with a 1 year limited warranty.
INQUIRIES
To get the latest prices and lead times, send us a message using the form below.