Projects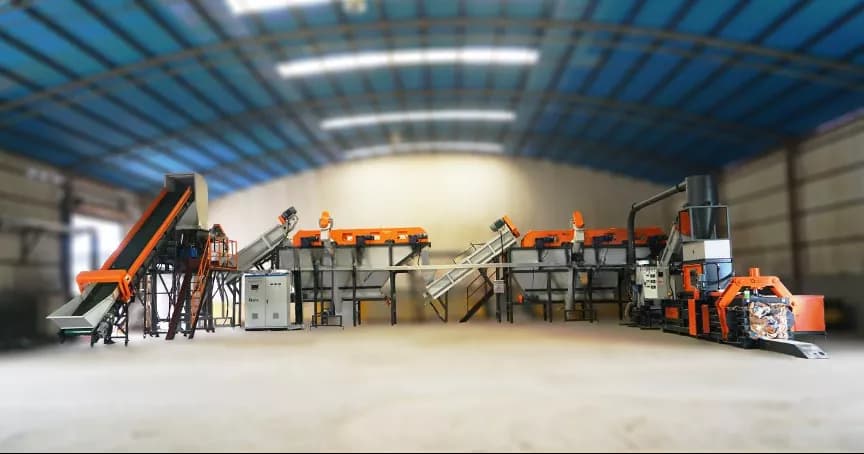 OUR SOLUTIONS
💡 Location: Hubei Province, China
💡 Item: 500 kg/h PP Jumbo Bags crushing, washing, drying, and recycling line
💡 Raw material: PP woven/jumbo/big bags
💡 Final product: clean plastic bag flakes
💡 Location: UK
💡 Item: 500 kg/h PP Jumbo Bags crushing, washing, drying, and
💡 Raw material: PP woven/jumbo/big bags
💡 Final product: clean plastic bag flakes
OUR MISSION
| No. | Name | Qty(set) |
| --- | --- | --- |
| 1 | Belt conveyor | 1 |
| 2 | Crusher | 1 |
| 3 | High-speed friction washer | 1 |
| 4 | Low-speed friction washer | 1 |
| 5 | Screw loader | 1 |
| 6 | Floating washing/Sedimentation tank | 2 |
| 7 | Centrifugal de-watering machine | 1 |
| 8 | Automatic baler machine | 1 |
| 9 | Electric cabinet | 1 |
Belt conveyor with a metal detector: This equipment can effectively sort metal and PP woven bags. After screening, the PP woven bags are transported to the crusher for crushing.
Floating washing/sedimentation tank: This tank cleans materials, removes some sand and impurities, and separates materials of different densities.
Centrifugal de-watering machine: This machine can effectively remove most of the water on the surface of the material.
Automatic baler machine: The final product will be packaged fully automatically.